You are cordially invited to . . .
An Evening with the Bioneers
"A Breath of Fresh Air"
October 25th from 7:00 p.m. to 9:00 p.m.
Logan Tabernacle
Free and Open to the Public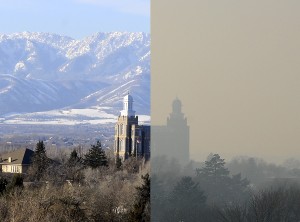 Air quality continues to remain a critically important issue for Cache Valley residents, as it should.  Our 8th annual Evening with the Bioneers' presentations will cover the important aspects of air pollution and how it affects the short and long term health of children, elders . . . all of us.  As our medical and science community tells us, the ill effects of red air days extend well past just one twenty four hour period.
If we don't demand clean air now, this complex and unhealthy problem is only going to get worse.  You will appreciate and learn from our excellent speakers for our 8th annual Evening with the Bioneers. How about a lifetime of fresh air?  It's up to each of us.  What's your next move?
---
OUR KEYNOTE SPEAKER
We are honored to have internationally recognized BYU professor DR. ARDEN POPE as our keynote speaker.  A short question and answer period will follow his talk.
C. Arden Pope III is a professor of economics at Brigham Young University and one of the world's foremost experts in environmental science. Although his research includes many papers on topics in the fields in which he was trained—environmental economics, resource economics, and agricultural economics—he is better known for his cross-disciplinary work in environmental epidemiology and public health. He is world renowned for his seminal work on the effects of particulate air pollution on mortality and health. His articles have helped establish the connection between air pollution and health problems, including cancer, cardiovascular, and pulmonary disease.
These research findings have influenced environmental policy in the United States and Europe, contributing to the establishment of emission standards for particulate matter pollution.  Dr. Pope comes under hostile political pressure from legislators and business for his research on air quality and health.  Intense scrutiny continues to reveal that his results are accurate. In 2004 Dr. Pope was awarded the Utah Governor's Medal in Science and Technology.
OUR OPENING SPEAKER
We are pleased to have TY MARKHAM, a Torrey rancher and Salt Lake City legislative lobbyist, who is the Director of the MORMON'S ENVIRONMENTAL STEWARDSHIP ALLIANCE (MESA) as our first speaker.  With more than 1,300 members (and growing rapidly) in over 15 countries, MESA wants its followers, indeed all LDS members, to remember LDS teachings to revere the Earth, its sanctity, its people and the need to preserve it for generations to come. She notes that the LDS Church is the dominant culture in Utah and that MESA really wants to change how the environment here in Utah (and everywhere) is being managed and preserved in the positive sense of clean air and clean water.  She said "we really need to mobilize our culture, our people." Ty attended BYU, and later received a Masters and Doctorate degree.
OPENING AND CLOSING OUR PROGRAM – THE CACHE CHILDREN'S CHOIR
We are delighted to have the very popular CACHE CHILDREN'S CHOIR (the Concert Choir group) open our program with song and close the program with several selections. Special thanks to Concert Choir co-director Jill DeVilbiss for her assistance in putting together the musical portion of our evening.  It's going to make for a very special opening and closing for our 8th annual "Evening with the Bioneers." Founded in 1987, this 501c3 non-profit organization helps prepare children for a lifetime of singing.  The young people develop talent and self-esteem through guided musical experiences including public appearances such as ours. They lend strong support to music education in public schools.  We invite you to visit their website at www.cachechildrenschoir.org to learn more about this wonderful youth program.